Upholstery Cleaning Services in Cornelius and the Lake Norman area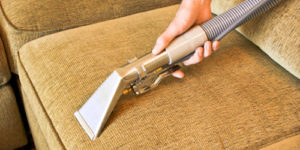 Your furniture has done a great job giving you a place to relax and sit back. But after a long time without regular cleaning, your upholstered furniture will begin to show wear and look dingy, and that affects how people see the entire room. Our services will leave your upholstery feeling soft as well as looking beautiful and new. Our Cleaning process will leave your fabric clean and dry within a few hours, and sometimes it may dry even faster depending on the type of fabric you have. Let our trustworthy technicians deep clean your furniture and upholstery. Got stains or spills?  Don't worry they're no match for our advanced cleaning processes. We'll work hard to remove any tough stains or spots. We are armed with the most innovative cleaning solutions and equipment in the marketplace. If we can't get it out, no one can!
Upholstery
&

Furniture Cleaning – Why Choose Us?
We will always take the time to determine the type of fabric your furniture is made of.  This ensures that we use the appropriate cleaning method to deep clean your fabric.  Our process is very safe and our technicians are highly trained and certified with all the latest equipment and technology.
Our process starts off by testing the type of fabric that your furniture is made of.  We then make sure the area is clean of all soil and residue by vacuuming it.  If there are any troublesome stains then they will be pre-treated to make it easier to bring out the dirt.  Soft brushes made especially for the job are used to help loosen the dirt and then the soil is extracted by rinsing.  We also PH balance the fabric to make sure that it maintains it's softness for a long time to come.  The upholstery is then dried with high velocity speed dryers to make the process faster, you'll be amazed at how quickly it dries (drying times vary depending upon fabric type). Finally the technician will review the job and ensure that you are satisfied.
By hiring us for your upholstery cleaning needs you save yourself money in the long run by ensuring that the job is done right.  Give us a call today to take the first step in extending the life of your furniture!