Tile and Grout Cleaning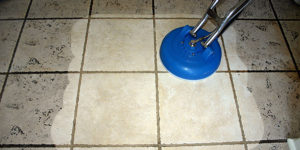 Have you ever noticed a buildup of dirt, mold, mildew or stains on your tiles in the kitchen, bathroom or other rooms?  Or maybe the grout, which once was white and clean has turned a shade of gray or black?  Even if you clean it regularly, it's almost unavoidable for your flooring to deteriorate over time.
It can even crack, allowing mold and mildew to grow in the cracks and multiply, which can cause health problems for you and your family.  This reason alone makes it worthwhile to get regular cleanings.
You don't need to worry though because at Lake Norman Carpet and Tile Care we have the tools and expertise to make your tile and grout as good as new!  For reliable service in Cornelius, Davidson, Huntersville, Mooresville NC and the Lake Norman area give us a call.  We are a local family owned business that guarantees a job well done.
Our cleaning process starts with preparing the area by thoroughly sweeping and moving any furniture out of the way.  We then use a very high-quality cleaning agent to loosen up the dirt and grime, before going over it with our state of the art truck mounted pressure cleaning system.  Finally, after doing a thorough rinse we will seal the grout to help prevent future stains if necessary.
Sealing grout is an important step because it ensures that your floor is protected from water and oil-based stains like beverage spills for example.
Lake Norman Carpet & Tile Care are well-trained in not only cleaning but restoring a variety of tile and grout. We keep up-to-date with the latest technology in cleaning, as well as the most effective methods, and we only use the very best products and equipment. Your flooring will look better than ever once we're through with it; you can rely on us to give your tile and grout a fresh start.
Our tile cleaning and grout cleaning process can be used on both ceramic and porcelain tile and is ideal for kitchens, baths and other tiled areas of your home or business. Our services employ a powerful truck-mounted cleaning system that completely removes any trace of dirt, grime and mold.
We'll safely clean your surfaces and make them last a lot longer in the process.  On top of that like always we guarantee a job well done and always have customer service in mind.  Give us a call today you won't be disappointed!